Working With Dave Scott To Build My 70.3 Fuel Plan
And booking a ticket to 70.3 Worlds
Here's the story of how I met Dave Scott, 6x Ironman winner and legend of the sport, and recruited him to help me build my fuel plan for my first 70.3.
Welcome To Boulder
It was July 2021 and Chels and I had just settled into our 5 week Air BnB in Boulder leading up to Boulder 70.3.
Five days into our stay, we were on the phone with our realtor and our house Philly was going on the market. More on that another time.
Our first weekend was highlighted by 2 local bike shops merging into one and hosting non-stop events as part of their Grand Opening.
Saturday started with a group ride of the Bolder 70.3 bike course and followed with a rotating panel of guest speakers all afternoon.
Dave Scott was speaking at 3:30.
Chels and I had been watching his swim videos on YouTube all week and marveled at the idea of hearing him speak IN PERSON AT THE LOCAL BIKE SHOP.
We were not in Philly anymore…
---
Fueling With A Bear Of Honey
Dave spoke on nutrition (among other things) and shared a story of a guy who ran into trouble fueling with too much honey.
Guess what I rode with as my only fuel on the group ride earlier that day?
A literal bear of honey! There are no coincidences…
My hand was the first one up when he opened the floor for questions.
I love the balance of nerves and confidence that comes with seizing an opportunity amongst a crowd.
Looking back, this was a pivotal moment in triathlon solidifying it's place in my life.
I was interested, eager to learn, putting myself out there and receiving help from someone who blazed the trail before me.
I felt like I found my thing.
---
Do Your Own Research
I peppered him with questions and sprinkled in some background from my Carnivore vs. Plant Based diet challenge for context on my nutrition knowledge and protocol.
He answered my questions, but as is always the case with nutrition, answers lead to more questions.
We chatted 1 on 1 for a few minutes after his talk ended and he suggested I shoot him an email if I had another question.
Another question (singular) was not going to be enough. I saw on his website that he offered consults and shot my shot.
Next thing I knew, he was coaching me through Master's swim and I had a consult on the books later that week.
---
Dave Scott's Fuel Tips
He has a 4 minute video explaining these. Here's the summary:
Wait 20-30 minutes before you begin fueling on the bike

Consume smaller, more frequent doses of fuel (every 10-12 minutes)

When in doubt, less is better (and will help avoid GI distress on the run)

Mark bottles to monitor how much you've consumed (and avoid over consuming)

Water loss is natural, don't replace calorie for calorie or fluid oz for fluid oz
Rule: always test fuel in training at similar intensities to race effort
Calorie Range: Women = 60-80 cals/hour | Men = 100-250 cals/hour
---
Building My Fuel Plan
We met at Dave's office above his garage, discussed my daily nutrition and built out my fuel plan.
Here are my bike and run fuel targets with a photo of my handwritten pre-race notes below:
Bike:
goal time = 2:39

calorie target = 180 cals/hour

Hour 1: 40 min fuel window (120 cals)

Hour 2: 60 min fuel window (180 cals)

Hour 3: ~40 min fuel window (120 cals)
Run:
goal time = 1:44

calorie target = 120 cals/hour (drop bike fuel by 1/3)

Hour 1: 60 min fuel window (120 cals)

Hour 2: ~40 min fuel window (80 cals)
Total calories: 620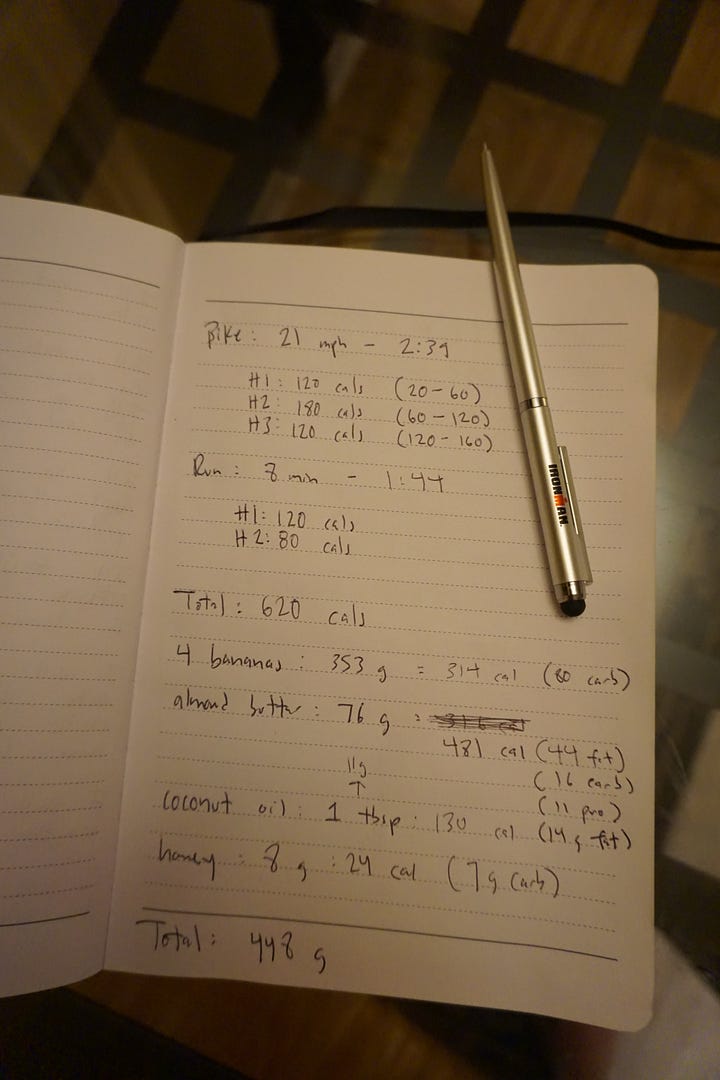 ---
Making My Own Real Food Mix
At this stage in my endurance career, I was locked in on low carb and real food fueling.
Both aligned with Dave's approach.
We decided a mix of bananas, almond butter, coconut oil and honey.
I brought out the scale, blender and got to work.
---
My Results
Our plan worked great, I finished in 4:58:15 and qualified for 70.3 Worlds.
I beamed with pride when I got this message from Dave post-race.
I ended up consuming all 3 bottles, but they were quite viscous and I had trouble getting all their contents out.
All 3 bottles totaled 993 calories. I estimate I had 800.
You can do absolutely anything you set your mind to, as long as you're willing to seek the help your goals require.